In stock
Salmo 9
€5.000,00
Serie "Brumas"
Charcoal on Canvas
250X150cm
15Los pueblos se han hundido en la fosa que hicieron,
su pie quedó prendido en la red que
escondieron.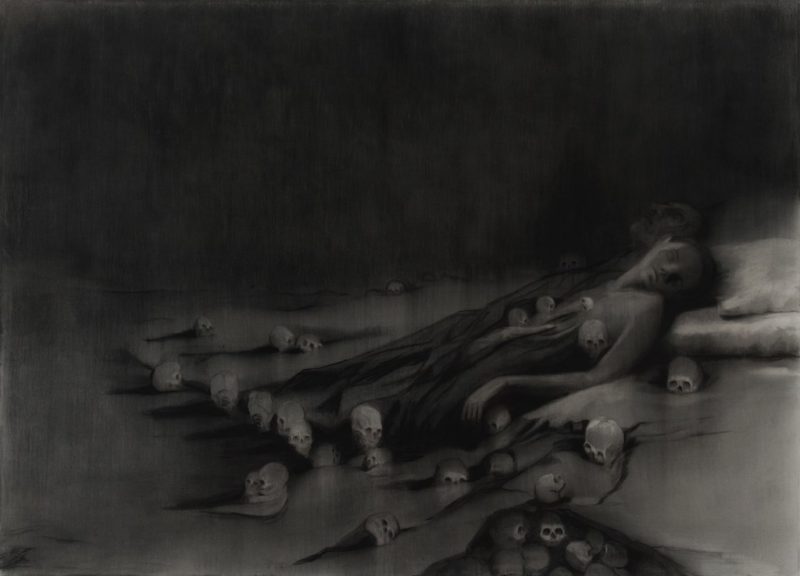 Ximena Cousiño got her degree in Fine Arts at the Catholic University of Chile, prepared her thesis at the Emily Carr School of Art & Design in Vancouver, Canada. She has had a vast professional career including solo Shows at different Contemporary Art Museums and galleries: MAC, Santiago; MAC Valdivia; Galería ANIMAL, Santiago; Centro de Extensión UC, Santiago: Centro Cultural Recoleta, Buenos Aires, Argentina. She has also been involved in countless collective exhibitions both in and out of Chile: MAC, Parque Forestal; Patricia Ready Gallery; ArteEspacio Gallery; Gasco Contempory Art Space; Off Bienal Venice, with the Benetton Foundation, The Chilean Bienal Chaco, Santiago 2015. She has also shown in New York and São Paulo, with Arsfactus and in Paris, with Silpa Art, 2017. She was invited by the Chinese government to Show her work in Beijíng and Nangang, and to attend a residency program between Chinese and Latin American Artists in China, 2015. She recently attended the Florence Academy of Art summer school program, 2019. One of the relevant exhibitions she was involved in producing while very young was a woman show at the Museo Nacional de Bellas Artes in 1993, Santiago, Chile (National Museum of Fine Arts).
There are no reviews yet.